Landscape Part 2 – Landscape as a Journey
---
COURSE WORK
Exercise 2.5: Text in art
Exercise 2.5: Text in art

In a similar manner to Richard Long's 'textworks' (see www.richardlong.org), write down 12 – 24 brief observations during a short walk or journey by some means of transport. This may be the journey you intend to make for Assignment Two, or it may be a different one. You don't need to take any photographs.

Consider how you might present your observations. For some more inspiration on text-based artwork, see:
Ed Ruscha: www.edruscha.com
Barbara Kruger: www.barbarakruger.com
Mark Titchner: www.marktitchnerstudio.com

This exercise is designed to help you think about text as an alternative or additional means of expression, and to provide an opportunity to experiment with presenting text creatively.
A Walk Along the Blackwater Valley Route
| | |
| --- | --- |
| 1. | The old lane has mostly been taken over by the gardens of the residents who bought it leaving only a very narrow pathway down to the river. |
| 2. | The bridge over the Blackwater has been replaced since I was a boy and the narrow concrete and steel construction that scared us as children has been replaced by a wider wooden construction. |
| 3. | Old Smithy's place is now a woods all traces of the caravan are gone and in spring it is a bluebell woods. He was a strange old man living like a hermit the full impact of who and what he was, was lost on us as small children. |
| 4. | The Blackwater Valley Route now runs along the river bank, this used to be part of the HTH Sand Pit |
| 5. | They have made a path out of Tarmac that now runs along or as close to the bank as it can this has made it a nice place to walk and is now a route for runners and dog walkers. |
| 6. | The river bubbles along looking so clean now, there are even fish in it. When I was a boy it was an evil frothing soup of chemicals and industrial slurry and was a dangerous looking rusty brown colour. |
| 7. | The houses all along the estate that have become so familiar to me over the past 53 years look strange from behind and it is hard to tell which house belongs to whom, even my own house looks strange on the opposite bank. |
| 8. | The trees at one point have grown over the river to form an arching canopy of foliage that the river runs serenely beneath. |
| 9. | The path bends away from the river while the fence on the right bars entry to the fishing lakes that occupy the old sand pit, which has been divided by the new road. |
| 10. | The path runs close to the road and high fences stop hooligans throwing things into the road as it cuts the landscape into two. |
| 11. | Ahead looms a concrete and brick structure that resembles an underpass from an urban landscape. |
| 12. | The underpass takes us beneath the Basingstoke canal which has been preserved by constructing a huge aqueduct. |
| 13. | The Blackwater Valley Route runs under the Canal and ascends to the towpath via a set of zigzag pathways that rise over twenty feet to the waiting canal and towpath above. |
| 14. | The Blackwater Valley Route now merges with the Canal Towpath for several hundred feet as we cross over the A331 to the other side. |
| 15. | As we cross the A331 I witness something of a marvel of modern engineering, the canal has been preserved with concrete and steel as it hangs over the road and huge swinging dams have been built to move into place should they need to remove the water from over the road to maintain the Aquaduct. |
| 16. | From the middle of the Aqueduct, there is a great view of the surrounding landscape and we can see the Road the A331 that stretches out in both directions like a huge scar on the landscape of my childhood, dividing places that can no longer be crossed on foot. |
| 17. | The Route descends on the opposite side of the Aqueduct and takes a zigzag path down to the side of the river and becomes the Blackwater Valley route again. |
| 18 | Somehow the river has crossed the road as well though I realise that I have no idea how this has been achieved. |
| 19. | Joining back with the river the path once again runs along its bank and the rather pretty fishing lake is visible to the right. |
| 20. | The route has to cross, Government road through a series of gates and a dash across the road to the other side. As we move along the path we find we can go no further for the moment as there is a dispute by the landowner with the builders of the path who he says had no right or permission to build a path across his land. |
Consider how you might present your observations
I saw a text-based display at the 2012 Brighton Photo Biennial. It was a project by Michael David Murphy called "Unphotographable" each piece was a text-based item that started "This is a picture I did not take" it was born out of a trip to some Muslim countries where he was advised not to take his camera. at the Time I found the work rather powerful as each piece created a picture in my head that was unique to me. I think that the way he displayed each piece on a series of sheets of paper that built the image was a very strong way to present work like this and so I feel that I would look at his work as a way of inspiring my own attempt
Michael Murphy's work can be seen in this press release along with a photograph of the exhibit I saw at Brighton in 2012 http://www.unphotographable.com/press_1.shtml
Exercise 2.4: Is appropriation appropriate
Is it appropriate to use other people's images in your own work? As the image above suggests this presents something of a dilemma.
On one hand, it is morally wrong to use the work of others without permission that is quite a clear cut in my own mind if I think about my own work I would be quite outraged if someone used my work without asking first especially if they made a profit out of doing so. This seems to me to be quite clear-cut, but what if there is no clue who made the work, well still clear cut to me it's still someone else's work.
On the other hand compositing images is fun I do it a lot, I have been known to need an element for an image like a pair of lips or a dragons eye, which I don't have in my own images, what do I do then? Well if it is just me playing I might get it from a google image search, but not for a commercial piece of work, in that case I would have to seek permission from the owner or use an image service like Getty or Alamay or use one of the ever-growing resources like deviant art where you can get free and purchasable resources.
I truly believe that this kind of artwork is justifiable and valid but I also think that as a working professional photographer we have to respect the IPR of our fellow practitioners. It is worth looking at this youtube broadcast from Tony and Chelsea Northrup who sued an Australian company for using one of their images.
The offending company ended up paying $60,000 but the Northrups ended up being paid $7,543.48 the rest went to the lawyers the whole process took something like 3 years and demonstrates what a minefield this subject is. It will cost you if you are caught stealing images but don't expect to be well compensated for having your image stolen after all in the end as the saying goes its only the lawyers that win.
Exercise 2.3 Typologies
Typology sees to raise its head in every module I have studied so far and you can see much of what I think about it and about practitioners like Bernd and Hilla Beecher who I have studied in detail in the blogs of my past modules. I must confess I had not associated Typology with Landscape until this point, though I don't really understand why as the link is clear and in fact, much of the work I looked at was a landscape in one form or another.
In general, I would say I am rather keen on typology and I love to make a nine by nine panel of typological similies which I have done on several occasions in the course of my degree. As an Engineer turned artist I do like the idea or order and of sorting things into classes and types, I am a really big fan of Hans Eijkelboom's work people of the Twenty-First Century which is an enormous collection of typologies of people.
To move into the Landscape topic I decided to take a look at the work of Robert Adams. Initially, they made me react like a slug finding the salt as they seemed to me to be of the vernacular type I loathe, but I saw a Youtube clip on the New Typologies:
In this film, he talks about Adams and points out the way his images are split in two with one part being a classic nature landscape reminiscent of the work of Ansel Adams and the other half contains buildings, mobile homes and other modern (in the 1970's) constructions. I started to really look at Adams work and saw this contrast in many of the images he made and found myself starting to like the whole concept. what for me had originally looked like something taken straight from my Mums Kodak Instamatic now takes on a richer and deeper meaning the images have far more depth and feeling than those old family snaps.
I am finding that I started this degree with some strange photographic prejudice and that the layers of this are slowly being peeled back to reveal a deeper understanding of the subject matter, I guess I am starting to see my own ignorance for what it is/was and have begun to throw it out in favour of a more enlightened understanding. I assume this is an indicator that the course is working and I am learning something. It does make me realise that I should challenge every fixed idea I have and look beneath the surface for the real answers. This was a strangely provocative exercise, I am not certain it was designed that way but it was very effective in making me look inward and see the need for change.
Exercise 2.2: Explore a Road
Exercise 2.2: Explore a road

Whether you live in an isolated village or a city centre, roads are something we all have in common. Make a short series of photographs about a road near where you live. You may choose to photograph the street you live or work on or another nearby. How you choose to approach this task is your decision, but use this exercise to develop the observational skills that will be challenged in Assignment Two. The objective is to try to think about something that is familiar to you in a different way. You don't need to make any preparations for this exercise. Work intuitively, and try not to labour the exercise. Compile a digital contact sheet from your shoot and evaluate your work, identifying images of particular interest – to you or, potentially, to a wider audience.


<BLANK SPACE>

Watch one of the films mentioned in this section or any other 'road movie' of your choice. Write a short review (around 500 words), focusing on how the road features within the film's narrative.


<BLANK SPACE>
Make a short series of photographs:
I chose to photograph my own road, I was born here moved away when I bought my own house and moved back when I inherited my parent's house so there are around 53 years of memories in this place.
I took the images on a walk without much setup or fuss, I wanted to be true to the brief and shoot freely. When I got them home I chose nine of them and in an hommage, to the work I have been studying of the photographers of the mid 19th century I created an analogue effect on them:
This is the entire contact sheet:
Watch a Road Movie and write a 500 Word Critique
The movie I chose to watch is called Two Lane Blacktop and here is my critique:
Two Lane Blacktop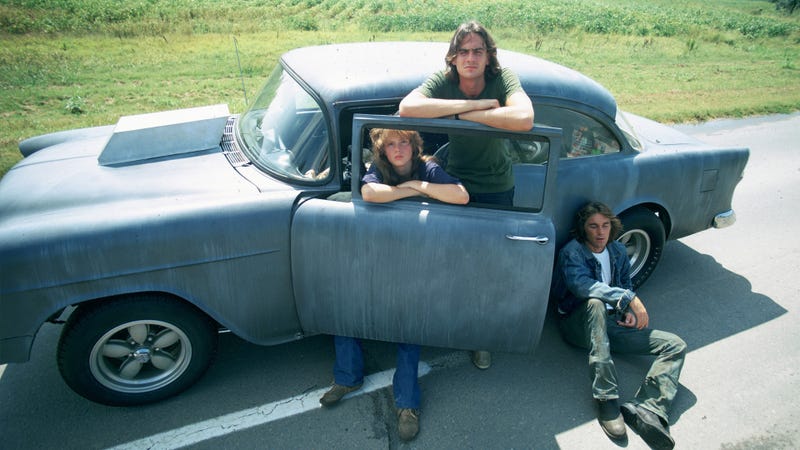 Two lane blacktop is one of the most iconic cult road films ever made, the film focuses on the road more than the characters who do not even have names. The story is loosely based on a race across America for "pink slips". The film's opening is just over 6 minutes long before anyone even speaks.  Our two "heroes" are two small-town car freaks who ride around Route 66 in a souped-up, '55 Chevy, painted in Grey Primer, looking for like-minded petrol heads to race.
The film is centred around the race between the Chevy and a GTO, however, it focuses more on the road which is depicted in two ways, firstly the drag strip or raceway which is the destination of each trip along the road and the source of income for our "heroes" and secondly as a home and a means of connecting all of the destinations. Their world is something that is familiar because of the influence of  American films like "Bonnie and Clyde," "Easy Rider" and "American Grafitti" it is populated by the typical Americana style establishments that have slowely been creeping into our culture over the years. The road is like one of those Hollywood film sets where all the buildings are just flat boards, in that all we see are the diners, motels, gas stations and hamburger stands that live along the road and we are not taken in further to see what lays behind. The road takes on an identity of its own in this film making us beleive that it is in itself a place to live and not just a method of moving from A to B. As far as our "heros" are concerned the road is home.
The focus of the film as mentioned before is on the surface of it a race to Washington, however, this is not really true as no one competing in the race seems at all interested in winning, or indeed focused on getting to Washington at all. The real focus is on the road and the nomadic lifestyle that everyone in the movie seems to lead. In fact we never learn who won the race as we never seem to get to Washington by the end of the film which closes as the Chevy takes off on the drag strip one last time and the film closes with an image of the celluloid burning away from the middle.
We are led to hope that there will be a love interest as the two heroes pick up "the girl" somewhere near the beginning of the film but no one seems to succeed in forming a relationship with her, though her part is probably one of the things that makes the film.
Two Lane Blacktop has become a cult road film, that did not perform as well as it should at the box office probably due to its proximity to some other films like Easy Rider stealing its thunder, it is however still the go to move for every petrol head and car freak and remains a cult classic.
Exercise 2.1: Territorial Photography
Exercise 2.1: 'Territorial Photography'
Read Snyder's essay 'Territorial Photography' which you'll find on the student website (see 'Online learning materials and student-led research' at the start of this course guide). Summarise Snyder's key points.
Next, find and evaluate two photographs by any of the photographers Snyder mentions, but not specific examples that he addresses in the essay. Your evaluation (up to 250 words for each) should reflect some of the points that Snyder makes, as well as any other references.
Essay Summary
In the beginning, photography was seen as precise and mechanical, handmade images were seen as more spiritual, Snyder thinks that this may have been more of a reaction to industrialization in general than from any threat perceived by artists. Snyder in his essay describes two distinct styles of landscape photography that emerged between 1850 and 1870 in the midwest of America. These were based on two different viewpoints, that of the businessmen who wanted to make the territory more appealing to settlers which Snyder termed "Invitational" Photography (Snyder, 2002, p189) which Snyder claims is demonstrated in the work of Carlton E. Watkins (1829 – 1916). The counterpoint to this was Snyder dubbed "Contra-Invitational" was demonstrated in the works of Tim O'Sullivan, which showed the landscape as a bleak and more hostile place that was less inviting to prospective settlers.
I have chosen to contrast two pictures, one Yosemite Valley, from the Mariposa trail (1865/66) by Carlton E. Watkins with an image titled "Quarters of men in Fort Sedgwick, known as Fort Hell" (1865) by Tim O'Sullivan.
Yosemite Valley, from the Mariposa trail (1865/66) by Carlton E. Watkins
Image found on the website the Photographs of Carlton Watkins
This first image by Carleton Watkins shows a beautiful Valley looking into Yosemite Valley, it depicts a lush green and pleasant land with plenty of water exemplified by the presence of Bridal Fall on the right third of the picture. This image conforms to all the conventions of classic Landscape Photography which, the work of Watkins had a big hand in defining. It is tempting to liken it to the work of Ansel Adams but in truth, it is the other way around as Watkins was one of the inspirations for Adams work. The overt purpose of this picture was as a geological survey but as the article connected to this picture points out it is far more than that, Watkins must have gone to great lengths to compose this image and achieve something inviting and pleasing which would inevitably encourage people to visit. In this scene the foreground is dominated by the large round boulders, he as created a beautiful recession with distinct layers as we move into the image along the valley, captured in the distance are the famous icons of the Half Dome and El Capitan, all placed expertly in the frame giving credence to the idea of very careful composition. Snyder claims that Watkins created these images without realising he was conforming to the rules of Landscape painting and that his fans either did not see this or did not want to, preferring to subscribe to the mechanical view of photography.
Quarters of Men In Fort Sedgwick, Known as Fort Hell (1865) by Tim O'Sullivan
Image found on the website SAAM – Smithsonian American Art Museum
As can be seen from this image O'Sullivan depicts a more hostile environment, this composition is of Fort Sedgwick which was known as Fort Hell, the image depicts some very rough living quarters and is surrounded by fortifications and staked fencing. The living conditions look hard and rough, it feels like a desert and there is not much evidence of water the only obvious vegetation is a tree which looks in a very sorry state further reinforcing the idea that this is a tough dry place to live built of logs mud and skins, the entire fort looks like a shanty town built from whatever could be found at the time. O'Sullivan's work was conducted during the first expeditions made without military control and was done under the scientific premise of documenting and surveying, it was not fueled by the need to sell the garden of Eden ideal to the viewer. Oddly although O'Sullivan was done by a scientific brief the chiefs did not think the images would be good enough for the survey and so they took an army of draughtsmen as well. Osullavans images were used to illustrate the reports written about the territory.
By contrast, this image would not likely encourage people to visit the area, unlike the previous image that was driven by the business ideologies behind it to expand and develop the resources in the area. Snyder comments that Ansel Adams found some of O'Sullivan's images and described them as "technically deficient, even by the standards of the time, but nonetheless, surrealistic and disturbing" (Snyder, 2002, p192) which led to O'Sullivan being entered into the modernist history of photography where he has remained ever since.